Advantech Devices Now Support the MQTT Protocol for IoT Data Acquisition
3/31/2017
March 2017 (Taipei,Taiwan)
– Advantech, a global leader of the data acquisition market, is pleased to announce that all its devices now support the Message Queue Telemetry Transport (MQTT) protocol – a simple and lightweight messaging protocol aimed at minimizing network traffic and device resource requirements. (Visit
here
for more information)
With a small footprint and minimal transport resource requirements, MQTT is a low-overhead protocol that supports one-to-many message distribution, application decoupling, and scalable deployment, making it ideal for constrained environments with low network bandwidth or high latency and remote devices with limited memory and processing capabilities.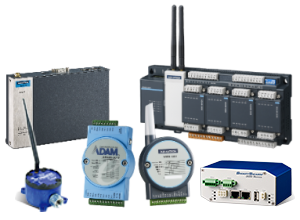 MQTT's lite payloads reduce bandwidth needs for high-volume data collection from mechanical and enclosed equipment and facilitate remote execution of real-time status monitoring and event handling.
MQTT for an Emerging IoT Market
Originally developed in 1999 to assist oil and gas distribution companies with monitoring pipelines effectively, MQTT has experienced a recent surge in popularity due to the exponential growth of the Internet of Things (IoT) and the need to facilitate communication between low-powered smart devices. MQTT is essentially a publish/subscribe protocol that runs on top of the TCP/IP networking stack and allows client devices to connect to the broker responsible for all data transfers, making it easier for organizations to quickly and affordably gather, integrate, and leverage sensor data. The advantages offered by the MQTT protocol include direct communication with the cloud, simplified device installation and management, and enterprise-grade security.
Device-to-Cloud Architecture for Direct Communication
Advantech offers a complete portfolio of MQTT-capable solutions, such as its WebAccess software platform, WISE-4000 wireless sensor nodes and Wzzard mesh I/O modules ADAM-3600 remote terminal unit and ADAM-6000 Ethernet I/O modules, ECU-1152 protocol gateways and SmartSwarm 300 cellular IIoT gateway, suitable for a wide range of commercial and industrial applications. Advantech's IoT devices, specifically the WISE-4000 series and ADAM-6000 series products, can be directly connected to the cloud or ERP/MES systems and communicate using the MQTT protocol without needing a gateway or converter. Such device-to-cloud architectures not only substantially reduce equipment costs and facilitate device authentication/access control and network intelligence, but also offer nearly instant communication between enterprise applications and the cloud network.
Easy and Convenient Installation with Plug-and-Play
Functionality Integrated with Advantech's WebAccess/SCADA software, Advantech devices with MQTT capabilities support plug-and play installation on cloud platforms. This eliminates the time-consuming configuration of individual sensor nodes and reduces installation costs and turnaround time for large data acquisition systems.
Prevent Data Losses with Breakpoint Support
The advantages of using the MQTT protocol with WebAccess/SCADA include the ability to resume operations from any breakpoint without data losses. Moreover, during network interruptions, data can be buffered in the WISE-4000 module until network communication is resumed and a client device reads the data. This not only prevents data loss, but also allows customers to manage the information flow to network nodes.
MQTT – The Protocol for a IoT Applications
Designed to facilitate the transmission of large volumes of data to numerous servers and client devices constrained by low bandwidth, high latency, or unreliable networks, MQTT is ideal for dynamic communication environments. As the name indicates, the main purpose of the MQTT protocol is telemetry, also known as remote monitoring.
Amid the current worldwide push to achieve a fully interconnected IoT infrastructure, MQTT is being adopted by numerous companies and industries to facilitate countless applications; for example, renewable energy applications, water treatment applications, river monitoring applications, agriculture farming applications, smart city and logistics applications, and factory management applications.
As the MQTT protocol emerges as the industry standard, vendors have begun developing automation products that leverage big data and rely on machine-to-machine (M2M) communication. Advantech's innovative IoT devices and intelligent systems provide scalable customer-centric solutions that use the MQTT open source protocol to gather, integrate, and transport data from thousands of connected devices to IoT infrastructure in order to accelerate the realization of an intelligent planet.
Product Availability Dates

For more information about Advantech products and services, please contact your local sales support team or visit our website at
www.advantech.com
.