New COM.0 R2.1 Type 6 Compact CPU Module with 5th Generation Intel® Core™ Processors
3/26/2015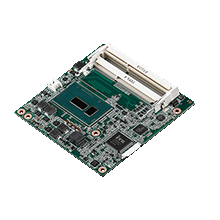 Mar 26, 2015 -
Advantech, a leading embedded computing solution provider, today announced the release of its new COM Express (PICMG COM.0) R2.1 Compac
t Module in Type 6 pin-out module board—the SOM-6896. SOM-6896 is equipped with the latest 5th generation Intel® Core™ Processor on a compact size 95x95mm COM Express, resulting in low power consumption, while providing excellent CPU and graphics performance. SOM-6896 is built for use in demanding applications such as medical equipment, automation, and gaming fields.
Compared with its predecessor, SOM-6896 is designed with the latest 5th generation Intel® Core™ Processor and supports DirectX 11.1, OpenGL 4.2 and OpenCL 2.0, and AVC/VC1/MPEG2 codec support. SOM-6896 supports VGA, LVDS, 3 simultaneous displays (HDMI/DisplayPort/DVI), and HDMI supports up to 4K (4096x2304) @ 24Hz resolutions.
SOM-6896 provides flexible IO interface options with up to3PCIe x1 to fulfill customers' various function extension requirements. In addition, SOM-6896 implements a new thermal improvement, with an added mounting hole designed around the CPU with a stronger board structure that avoids board bending. Thus, it is designed to improve thermal effect, and offers an excellent connection between module board and thermal solution.
Advantech

iManager

provides a valuable suite of programmable APIs such as multi-level watchdog, hardware monitor, and other user-friendly interfaces. Since this isabuilt-in solution on chip, iManager ensures that functions operate even if the operating system fails, helping enhance system stability and compatibility, and reducing effort on carrier board design and platform migration.
PICMG COM.0 R2.1 Type 6 pin-out compatible Compact module for 5th generation Intel® Core™ i7-5650U, i5-5350U, i3-5010U, and Celeron® Processors

Intel® HD Graphics 5500 and 6000 support for DX11.1, OpenGL 4.2, and OpenCL 2.0

Supports VGA, LVDS 2-CH 18/24-bit, HDMI/DVI/DisplayPort

Supports dual-channel DDR3L-1600 non-ECC up to 16GB

Supports 4 PCIe x1, 2 COM, 4 SATA, 2 USB 3.0, 8 USB2.0, 1GbE, TPM (Optional)

Supports Advantech iManager 2.0 and software APIs