New COM.0 R2.1 Type 6 Basic CPU Module with gen2 AMD Embedded APU
3/19/2015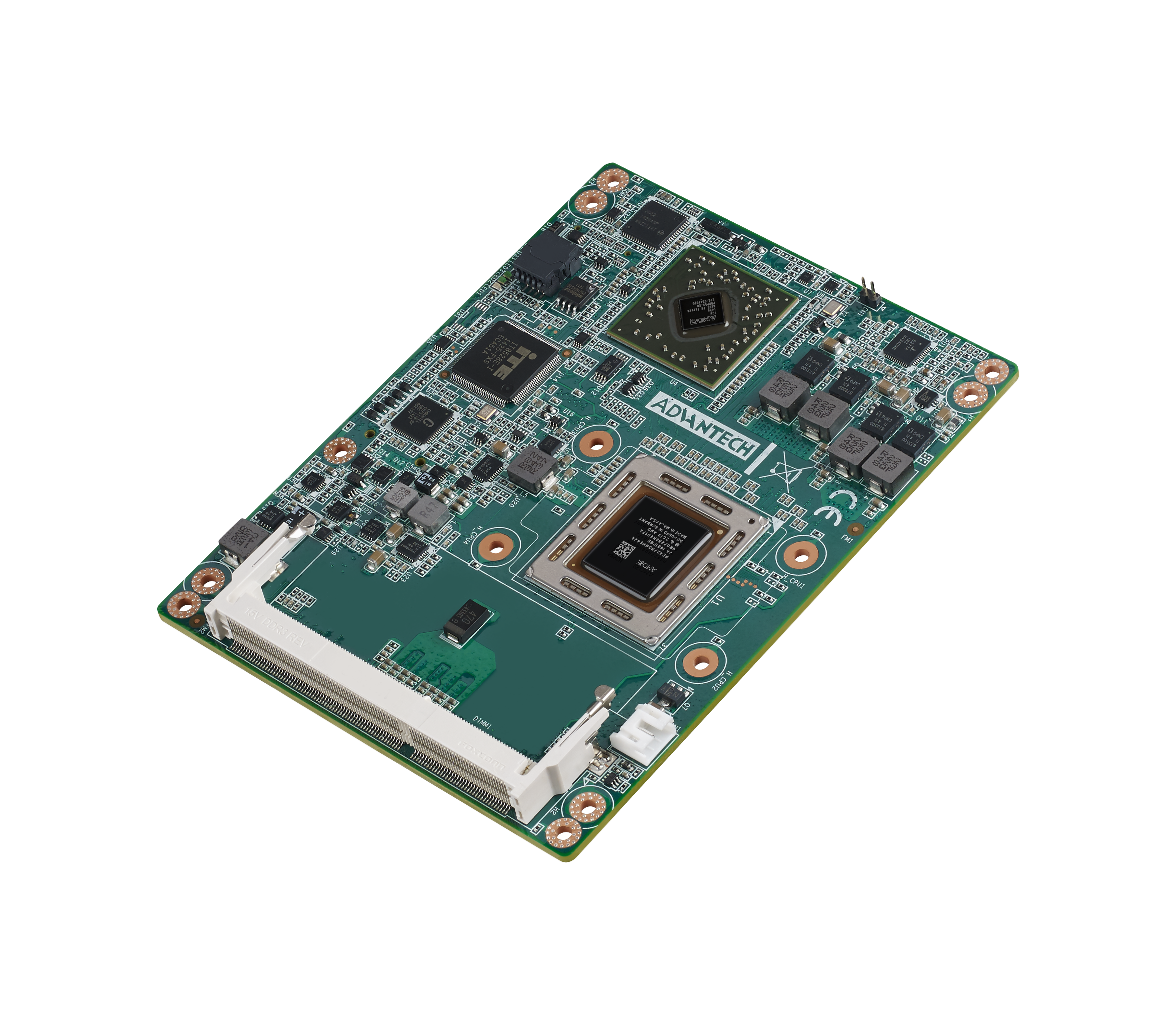 Mar. 19th, 2015, Taipei -Advantech, a leading embedded computing solution provider, today announced the release of its new COM Express (PICMG COM.0) R2.1 Basic Module in a Type 6 pin-out module board — SOM-5893. SOM-5893 is equipped with the latest 2nd generation AMD embedded R-Series APU, and offers eye-catching graphics performance; it supports "Heterogeneous System Architecture (HSA)", which allows applications to make seamless use of the CPU and GPU through Heterogeneous Queuing and access the same memory through Heterogeneous Unified Memory Architecture, making SOM-5893 a great choice for an ultrasound machine, or casino or arcade gaming.
Quad Displays Support and Extreme Graphics Performance
SOM-5893supports four independent symmetrical displays up to 4K2K DDI resolution, and users can employ any combination of LVDS, DDI and VGA. The new generation AMD Radeon HD9000 Graphics supports DX11.1, OpenCL 1.2, OpenGL 4.2, and hardware decoder for H.264 and MPEG4 decode; it offers enhanced media effects, and outstanding 3D performance.
Optimized Mechanical Design
SOM-5893implements a new mechanical design that features a stronger board structure that strengthens the contact between the CPU and the thermal solution, and reduces board bending as well, with four added mounting holes around the CPU. This produces noticeable improvement in heat dissipation performance. We also provide an optional, pre-assembly service for the SOM-5893 and its thermal module, so that customer can, if desired, insert these two parts in one stop.
Numerous High Speed I/O and Configurable Expansion Interfaces
Built-in high speed I/O ports include USB 3.0 and SATAIII for big data transmission. The PEG x16 lane handles up to gen3 (8 GT/s bit rate) and 7 PCIe x1 can be flexibly configured via BIOS settings.
Supports Advantech iManager and SUSIAccess for Intelligent Management
Advantech iManager, included with SOM-5893, provides a valuable suite of programmable APIs that ensures normal basic function even if the operating system fails, which helps enhance system stability. It also comes with Advantech SUSIAccess, which lets system integrators centralize remote monitoring and management of all their embedded devices; features even include remote system recovery.
SOM-5893 will be available inApril, 2015. Please contact Advantech's local sales for more details.
SOM-5893 Features
PICMG COM R2.1 Type 6 pin-out compatible COM Express Basic module with 2nd generation AMD embedded R-Series APU
Supports DX11.1, OpenCL 1.2, OpenGL 4.2
Supports hardware decoder for H.264, MPEG4, VC-1, MVC & MPEG2 decode
Supports multi-displays: quad symmetrical independent displays (VGA, LVDS, HDMI, DVI, DisplayPort)
Supports dual channel DDR3 - 1.5V 1866MHz and 1.35V 1600MHz SODIMM sockets up to 16 GB
Supports 1 PEG x16, 8 PCIe x1(if remove LAN), 4 SATAIII, 4 USB3.0 & 8 USB2.0, LPC, SMBus, COM port, GPIO and I2C Bus
Supports Advantech iManager and software APIs
Wide operating voltage range (8.5V ~ 20V)