Integrated In-vehicle and Outdoor Video Surveillance Solutions Achieve High Efficiency, Lower TCO
4/22/2015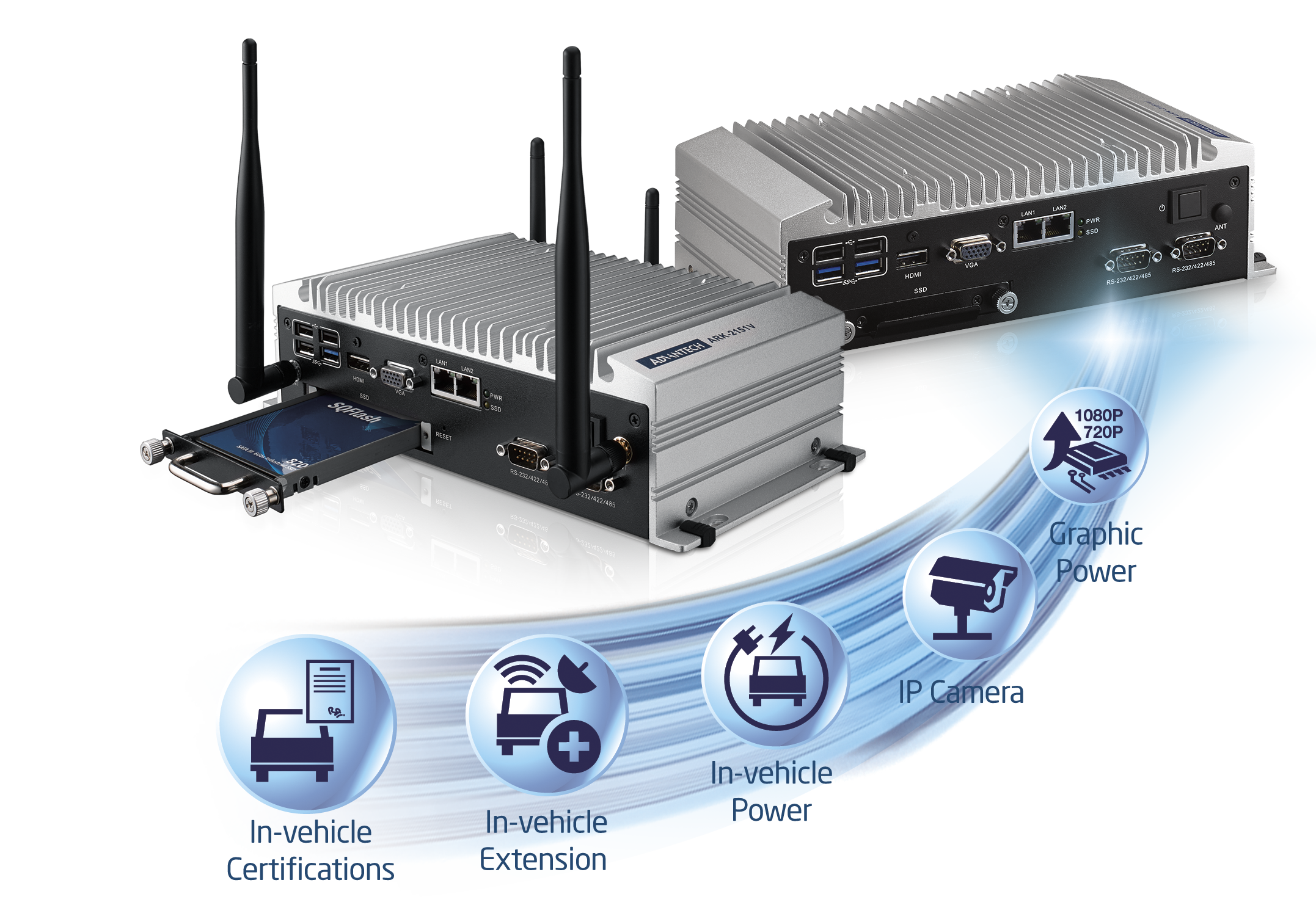 Mar 26, 2015, Taipei
–
Advantech, a global leader in the embedded system market, is pleased to announce
its new,
ARK-V in-vehicle and ARK-S surveillance Full-HD/HD NVR solutions. The
ARK-V and ARK-S series feature a fully integrated, certified hardware and intelligent management software design. ARK-V series has in-vehicle power (9~36Vdc, ISO-7637-2), in-vehicle certifications (E-Mark, IEC-60721-3-5 5M3) and well-developed vehicle software SDK and APIs for space-critical in-vehicle applications. It also provides extension capability and wireless communication (GPS/G-sensor/Wi-Fi/3G/CANBus) for excellent connectivity, high graphics power (up to 1080p/720p @120fps) for video capture, and integrated software for manageability and security. When it comes to developing in-vehicle and outdoor video surveillance applications, proven Advantech hardware systems, along with confirmed compatible software, reduce difficulties and put System Integrators months ahead.
Certified In-Vehicle, Safety, and Rugged Solutions
For outdoor and rugged environments, vehicle vibration and shock resistance capabilities for these new systems are certified at IEC-60721-3-5 5M3, a protection level higher than MIL-STD-810F. With regardto vehicle standards and certifications, ARK-V series boasts vehicle power design certified by E-mark and ISO-7637-2. Both series have also garnered various safety certifications, including CE, FCC, CCC, UL, BSMI and CB, and can therefore be marketed in countries that observe strict safety standards.

Well-developed Vehicle and Surveillance SDK and APIs
Offering hardware excellence combined with Advantech's rich software resources, ARK-V and ARK-S series are integrated platforms for developing in-vehicle and video surveillance solutions. Each ARK-V/S series unit comes with strong, Advantech SUSIAccess software support that provides a well-developed SDK and APIs. These addons let system integrators conveniently develop their own remote monitoring and control functions, vehicle ignition management, VMS, and peripheral connection management such as wireless modules, PoE status, GPS, and G-sensor.

Multi-Expansion for Diverse Scenarios
ARK-V and ARK-S series provide support for up to four Mini-PCIe slots, including 3G/Wi-Fi/CANbus and mSATA. For example, in public bus information systems, a built-in CANBus module helps connect the vehicle to provide vehicle status information such as driving speed, gear use, braking, fuel usage, and so on. Such information is also valuable in determining responsibility or liability in traffic incidents. With a 3G module and SIM cards, it can provide 3G voice communication for eCall applications. This function helps driver and traffic center communicate, which is especially valuable when conditions are urgent.

ARK-2151V
ARK-2121V
ARK-2151S
ARK-2121S

Intel® Celeron® 2980U DC / Core™ i5-4300U DC with 4PoE

Intel® E3825 DC / E3845 QC with 4PoE

Supports 1920x1080 @120fps live view and playback

Supports 1280x720 @120fps live view and playback

‧Vehicle power compatible, with ignition management

‧E-MARK / IEC 60721-3-5 Class 5M3

‧Extensibility for CANBus,WLAN and WWAN module

‧4 x 10/100 PoE ports, supports remote PoE port self-monitoring

‧CE/FCC/UL/CB/CCC/BSMI Certification

‧Supports up to ultra wide temperature -30~70ºC

‧Anti-Vibration/ Shock proof with IEC60068-2-64/27

3Grms/30G


About Embedded Core Service
Advantech Embedded Core Services offers design-in oriented services. These streamlined solutions broadly integrate embedded boards, peripheral modules and software. This dedicated focus on Embedded Design-in services fulfills electronic engineering demands at their design-in phase, and brings benefits that shorten the design and integration cycle, minimizing uncertainty and risk.
www.advantech.com/EmbCore
Founded in 1983, Advantech is aleader inproviding trusted,innovative products, services, and solutions. Advantech offers comprehensive system integration, hardware, software, customer-centric design services, embedded systems, automation products, and global logistics support. We cooperate closely with our partners to help provide complete solutions for a wide array of applications across a diverse range of industries. Our mission is to enable an intelligent planet with Automation and Embedded Computing products and solutions that empower the development of smarter working and living. With Advantech, there is no limit to the applications and innovations our products make possible. (Corporate Website:
www.advantech.com
).