Advantech Digital Signage in Taiwan Taoyuan International Airport
6/22/2017
Being as Taiwan's largest and busiest airport and the top 10 best airports in Asia in 2016, Taiwan Taoyuan International Airport served more than 115,000 passengers per day. To assist a large of number of airline passengers every day, digital signage systems are very important. Digital signage acts as a point of information that conveys up-to-date flight information and wayfinding guidance to travelers so that they can find their destination rapidly and thus enhance travel experience. Advantech DS-063 and DS-980 were selected to be deployed in Taoyuan International Airport for its reliable and high performance in broadcasting real-time information.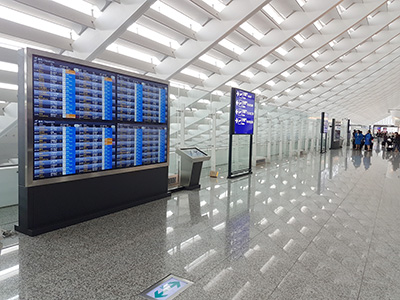 Challenge
In this project, digital signage was deployed in multiple places including check-in counters, boarding gates, baggage claim areas across the terminals. Digital signage systems that are in different locations in the airport require different solutions.

Some have different display output requirements from single, dual, or four of panels for a video wall for example. Some have simple requirements, such as slim design, so the player can be easily integrated into LCD displays in space constrained place. Lastly, the system would have to be accurate, powerful, rugged and reliable enough for 24/7 non-stop operation, with no errors tolerated.
Solutions
Both Advantech DS-063 and DS-989 perfectly met the critical requirements mentioned above for its reliable industrial design, powerful performance and easy integration. Advantech DS-063 was applied in check-in counters, and immigration check area broadcasting information about the arrival and departure of flights. Powered by Intel® Core™ i7/Celeron®/Atom™, DS-063 can playback 1080P Full HD multimedia content on two screens. Its fanless and 19mm-thin chassis design allows for easy installation on the back of a display with VESA mounting bracket. DS-063 can be easily installed and removed for maintenance without disturbing the screens anywhere, even limited spaces.

What's more, DS-980 is installed for six screen video wall and four screen video wall located in departure hall and baggage claims areas to display real-time flight information, wayfinding, and advertisement. DS-980 delivers exceptional computing and graphic performance with the latest 6th Gen. Intel Core i7-6700TE/ i5-6500TE/ i3-6100TE and Intel HD Graphics 530; perfect for graphics-intensive video wall applications. The system features with ultimate expansion capability with dual channel, and M.2 (2230 E key) for wireless connection. Its stackable design with PCI Express 3.0 x16 expansion slot allows you to drive up to six displays with an add-on graphic card, thus delivering a better price-to-performance compared to using traditional controller and graphic cards.