Electronic Bus Fare Collection System
5/11/2015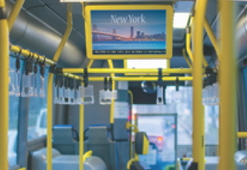 Introduction
A city in Latin America is rolling out a new bus fare collection system to better serve its residents and the many tourists that visit annually. The new system serves multiple purposes: protecting passengers and drivers on the road, enforcing driver and rider regulations, and helping fix responsibility after an event. These systems also help reduce, or dispatch, frivolous claims. The bus fare collection system also makes more efficient management possible; the system can integrate payment, video surveillance, passenger information, bus tracking, and infotainment. Passengers like the convenience of the Fare Collection System (FCS), and areencouraging its wider deployment throughout the city.
Application Requirements
The vehicular environment is beset by electrical variations, shock and vibration, dust, and sometimes temperature extremes. To ensure safety and reliability, in-vehicle computers require special designs that combat these evils, and these design features distinguish them from standard IT products. In terms of wireless communication, the system needs to support diverse wireless communications, plus a GPS receiver for route tracking purposes.
System Solutions
Advantech provided a mobile NVR solution, ARK-2121V, which included a vehicle-grade fanless system, 7" inch open frame touch monitor, and megapixel IP cameras. The fanless systemfeatures an on-board MCU to handle power ignition management; the system unit can be powered on and shut down automatically, triggered by either ignition signal or car battery health; the four built-in PoE ports provide for simple and easy IP camera connections through just one RJ-45 cat.6 cable per camera. Advantech SUSIAccess software provides a well-developed SDK and APIs that let system integrators conveniently develop their own remote monitoring and control functions, vehicle ignition management, and peripheral connection management such as PoE status, GPS, and G-sensor.
Benefits
Integrated in-vehicle NVR solution, one stop shopping for in-vehicle NVR, touch monitor and cameras
Provides sufficient video performance with 1280 x 720 @ 60fps live view and playback
5-wire resistive touch solution provides quicker touch response, with high, 10-million-touch durability
Offers 32+ device management APIs, including system health and connected device monitoring, power ignition management, GPS and G-sensor
Isolated I/O port design ensures more stable data transmission between vehicle and system
Covers most wireless connectivity; customer can use Wi-Fi and 3G/LTE at the same time