Production Calibration Tester for IPL Epilator Manufacturing
4/4/2017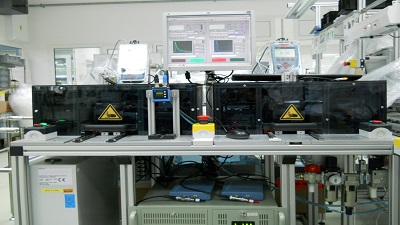 Market: Test/Measurement
Location: Hungary
Technology Partner: Delta VTPE
Introduction
The VTEP-VIDEOTON ELECTRO-PLAST CO., Hungary, is a leading multi-commodity supplier of parts, modules and assemblies. The company provides full service from product design through sourcing, industrialization, in-house injection molding to mass production and delivery. ADVANTECH products are widely used for both the manufacturing lines control and the end products calibration and testing.
System Implementation
One of the important applications is the calibration tester with two measurement developed for the mass production line of IPL hair removal devices. The tester is based on ADVANTECH industrial computer and I/O boards, electro-pneumatic actuators, and LabView programming. The tester performs the setting of the output energy level of the flashlamp in the IPL epilator (downloading the calibration data into the product via serial communication), and the functional testing of the parameters, like the standby current, operating (peak) current, ventilator, control of the actuation buttons; measuring and evaluation of the intensity and contrast of the light of the feedback LEDs.
Software environment: Widows OS, Lab View 2010, Advantech DAQ Navi IO drivers, and SDK.
Further devices used are USB light energy sensors and USB oscilloscopes.
Advantech PC: IPC-610BP-30HBE PCA-6114P4-02CE PCA-6010G2-00A1E
DAQNavi : PCI-1754 PCI-1734 PCI-1730U PCI-1720U.
Conclusion
Thanks to Advantech PCI card customer provides economical and practical measurement system for calibration of flashlamp in the IPL / intense pulsed light / epilator.