Public Bicycle Rental System
5/10/2015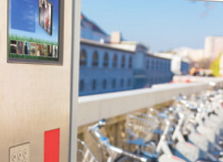 Introduction
Public Bike Systems (or PBS, also called Bike Sharing, and Community Bike Programs) provide convenient rental bicycles intended for short urban trips. Offering fast, easy access, the bicycles may be rented at one station and returned to another. The Public Bike System provides convenient mobility, healthy exercise, and a reduction in pollution emissions. Public Bike Systems have been implemented by many cities and have rapidly gained popularity. The European company in charge of this particular PBS project was looking for an integrated solution with well-controlled management and maintenance costs.
Application Requirement
A public bike system typically includes a fleet of bicycles and parking stations, plus control kiosks withmultiple interfaces, including control system, touch screen and security card reader for fast and easy access. IP cameras are also connected for surveillance. Data back up and management are handled through the control box. Naturally a high MTBF and rugged, wide-temperature design are requirements for these outdoor, 24-hour rental systems. Most important of all, rental systems scattered across broad areas of large cities require effective management.
System Solutions
For each station kiosk, Advantech provided a fanless, ARK-2121S system that offers an integrated solution for public rentals. ARK-2121S supports up to 1280 x 720 @ 60fps live view/playback for real-time video capture, isolated COM/Digital IO ports to control bicycle locking systems, and USB3.0 high speed interface for local data backup. The system connects with an interactive monitor through HDMI & USB interface, and an identification recognition system with proximity card reader. Advantech's vital SUSIAccess software comes built-in in the ARK-2121S, and is used as a centralized management tool to manage remote site systems, with a distributed structure for separate management. This saves much time and resources when it comes to managing and maintaining devices.
Benefits
Supports ultra-wide temperature range: -30 ~ 60 °C for outdoor environments
Easy video backup through a hot-swappable drive bay
Free SDK/API for camera health management and device control
RichI/O for system connectivity: COM / Digital IO / USB / HDMI / LAN ports
4 PoE ports provide for simplified camera installation and reduced downtime