Advantech's Total Wireless Solution Provides an Efficient AGV Material Distribution System for Factory Production Lines
4/19/2017
Introduction
In product manufacturing, the smoothness of workflows determines the overall production efficiency on the shop floor. Any disruptions or pauses at a workstation can affect subsequent processes and may result in delivery delays should the situation become serious. To maintain consistent production, the distribution of raw materials (such as components or semi-finished products) plays a key role. Because material distribution is a high-frequency, time-consuming, and costly task, many manufacturers have recently begun using automated guided vehicles (AGV) to distribute materials. They hope to minimize manpower costs, improve response times, and reduce error rates by employing unmanned vehicles for flexible and automated dispatch.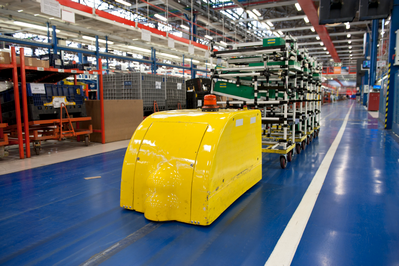 However, regarding the introduction of new technology, factories typically involve a wider operational area and relatively complex environment. Enabling AGV material distribution systems to deliver the correct materials to the appropriate stations at specific times necessitates not only a suitable vehicle, but also a substantial amount of integrated hardware and software technologies. Therefore, in addition to researching and developing unique software, system integrators must select the appropriate hardware products to construct a system capable of successfully performing the required functions.
Advantech has an extensive product portfolio of comprehensive solutions that are capable of satisfying the diverse criteria for AGV material distribution systems. With their powerful functionality and easy integration, Advantech's WISE-4000 wireless I/O module and WISE-5121 industrial-grade wireless access point (AP) enable the rapid deployment of reliable wireless communication networks in harsh factory environments to facilitate efficient material distribution operations.
System Requirements
A system integration company located at the Zhengzhou High-Tech Industrial Development Zone in Henan, China, is committed to developing intelligent industrial applications and prides itself on being one of the pioneers of Industry 4.0 in China. Since its establishment, the company has independently developed factory automation management, intelligent logistics and warehouse management, AGV logistics management systems for industrial parks, achieving a number of international quality certifications and software invention patents. Currently, the company is developing an AGV material distribution system for traditional factories, such as automobile assembly and home appliance manufacturing factories, to facilitate the transformation from manual material handling to automated distribution.
The automated material distribution system must be capable of supporting multiple operations, including material transportation using an AGV, manual control of material feeding from workstations, automatic AGV battery recharging, and AGV battery monitoring. Consequently, the company requires a total solution that features data acquisition, wireless connectivity, and serial-to-network conversion functions, as well as in-vehicle computers and other additional hardware products. This will enable the intelligent solution to transmit material feeding requests, perform automatic material distribution, and conduct battery self-charging simultaneously.
Additionally, because the AGV material distribution system must be capable of transmitting vast amounts of data wirelessly over hundreds of square meters throughout the factory site, Wi-Fi technology with increased transmission speeds and a wider coverage area is required to establish a stable wireless connection for reliable communication. Finally, the system hardware must provide advanced anti-noise interference, data accuracy, and network stability mechanisms to ensure reliable operation.
System Description
To meet the project requirements, Advantech's wireless solution comprised three key components. First, a WISE-5121 industrial-grade wireless base station (AP) was installed to establish a factory-wide Wi-Fi network. Second, WISE-4050 Ethernet-based wireless I/O modules were deployed at the workstation and AGV charging station to collect and transmit data regarding material supplies and AGV charge status. Finally, an EKI-1361 serial device server was configured to connect to the AGV PLC and upload data to the TPC-1251T thin-client terminal for managing AGV operation.
At the core of the wireless communication network is WISE-5121 — a high-performance wireless base station that meets the IEEE 802.11b/g/n standard and has an ingress protection rating of IP66 to ensure the provision of stable and reliable wireless communication in harsh industrial field environments.
The built-in directional bipolarization antenna not only increases transmission distances, but also expands the network coverage area without necessitating an external antenna. Moreover, the inclusion of a private tunneling protocol and encryption technology enhances security for network transmissions.
Advantech's WISE-4050 was designed specifically for IoT applications. This wireless I/O module offers multiple digital input/output channels for integrating data acquisition, processing, and publishing functions. This enables various information, such as material feeding button activity, switch activation, and machine fault data, to be collected via a single module installed on each workstation, simplifying the overall system architecture. WISE-4050 also features an automatic filtering function for defining the acceptable signal width in order to eliminate noise and interference from the collected signals. During network interruptions, data can be temporarily stored on flash memory with a corresponding time stamp; data transmissions are automatically resumed upon network reconnection. With support for dual wireless network modes (Server and Client), engineers can use mobile devices to access WISE-4050 directly in order to quickly configure and diagnose the system for easier maintenance.
Regarding the two hardware products installed on the AGVs, the EKI-1361 serial device server converts RS-232/422/485 serial signals into wireless Ethernet signals to allow devices with serial ports to connect to the wireless network without special driver programming. The TPC-1251T thin client terminal with IP66 protection and a built-in 64G solid-state drive (SSD) features excellent vibration tolerance and durability for in-vehicle applications, such as factory AGV operations, which necessitate a touch computer with high stability.
Project Implementation
WISE-4050 Wireless IoT I/O module with 4-ch digital input and 4-ch digital output

WISE-5121

IEEE 802.11 b/g/n industrial-grade Wi-Fi access point/client



TPC-1251T

12.1" TFT LED LCD Intel® Atom™ thin client terminal



EKI-1361

1-port RS232/422/485 to 802.11b/g/n WLAN serial device server



System Diagram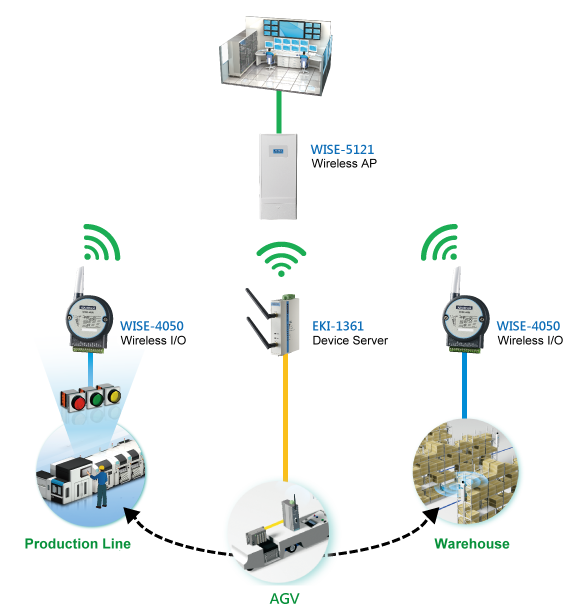 Conclusion
Amid ongoing labor shortages and increasing manpower costs, factories are facing rising pressure to implement intelligent automation in order to maintain production. With Advantech's easy-to-integrate total wireless solution, system integrators can easily and quickly develop AGV material distribution systems that facilitate the introduction of intelligent applications at manufacturing factories to resolve labor challenges and increase productivity.
The system integration company profiled in this case study had initially wanted to implement ZigBee wireless network technology, which actually offers inadequate transmission rates, coverage, and openness. After a professional consultation with Advantech, the company decided to establish a Wi-Fi communication network because of it suitability for complex factory environments, thereby reducing development risks.
The high popularity and compatibility of Wi-Fi communication also allows on-site staff to manage field AGV scheduling via diverse mobile devices employed as handheld terminals. Because of their high satisfaction with the product quality, expertise, and after-sales service provided by Advantech, the system integrator plans to seek Advantech's assistance with implementing remote monitoring management and MES/ERP integration in the second phase of their factory upgrade.